Lucas Larochelle
Queering the Map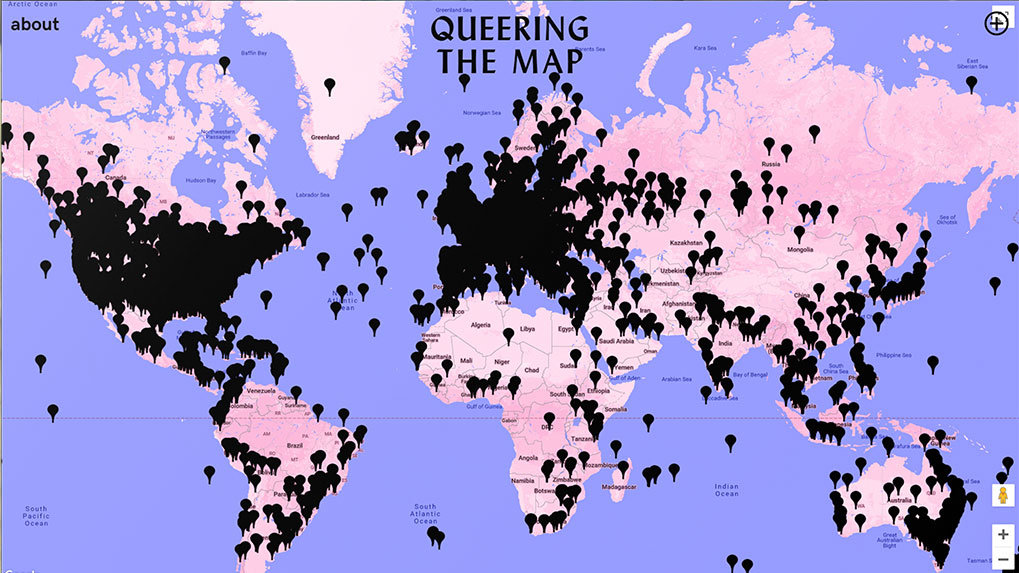 Lucas LaRochelle is a multidisciplinary designer and researcher examining queerness, technology, and architecture. Their practice spans graphic design, digital media, costume design and wearable technology - employing these mediums as a means of exploring the interactions between the (queer) body, technology and cyber/physical space. They are invested in using their work as a tool to both critique contemporary culture and explore tangible alternatives. They are the founder of Queering The Map, a community-generated counter-mapping project that archives queer moments, memories, and histories in relation to physical space. Queering The Map received an Honorary Mention for the 2018 Prix Ars Electronica, and was longlisted for the Lumen Prize for Digital Art and the Kantar Information is Beautiful Awards. They have given talks and workshops in Montreal (Échelles Magazine, A School A Park, QueerTech, The Ethnography Lab, Montreal Design Club), New York (Theorizing The Web), Los Angeles (UCLA), Amsterdam (Hackers and Designers), London (Accent Magazine Somerset House Takeover), Lima (Scotiabank Digital Factory Peru), Puerto Rico (University of Puerto Rico School of Architecture), and Zurich (Otherwise Festival). Their work has been exhibited in Canada (articule), the US (space.us), the UK (Somerset House), the Netherlands (Dutch Design Week) and Austria (Ars Electronica). Their work and writing has been published in Échelles, Perfect Strangers, Revistas UNAM, Accent, and ROM.
-
To queer space is to point to the limits of current realities that do not adequately consider the safety and well-being of marginalized bodies, and in doing so, points to other possibilities. These spaces of possibility are often ephemeral, and are produced through the actions of queer bodies resisting or even simply existing in the face of dominant power structures that would rather they not exist. Despite their ephemeral nature, these actions of resistance do not simply disappear into the ether once they have been performed, but rather hold the possibility to act as catalysts for a reimagining of a queerer, more radically open world.

Queering The Map is a community generated digital counter-mapping project that aims to archive moments of queer existence and resistance in relation to physical space. From direct action activism to conversations expressing gender pronouns, from feelings of isolation to moments of rapturous love, Queering the Map functions as a living archive of queer feeling. By mapping out queer experience in all of its permutations, Queering the Map aims to extend the lingering of these queer potentialities in physical space, by archiving them in virtual space. In making ephemeral moments of queerness legible outside of the subjective, the project opens up a potentiality for new modes of intersubjective connection across spatial/temporal divides. At the time of writing, Queering The Map hosts over 45, 000 stories of queer experience from all over the world.